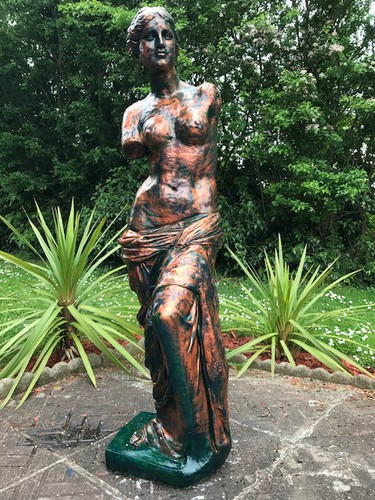 1 Really Stunning Large Bronze Verdigris Style Stone Goddess Venus De Milo Garden Ornament Statue.

Tall 5ft high.

She is the Greek Goddess of Love & Beauty & has fine detail.

Made of the finest cast composite stone & is fully frost proof.

Very heavy weighing 180kg.

Solid fine construction.

Circa 21st century.

Made in England.

She would make a fantastic centre piece for your garden.

She has been magnificently hand painted by an artist creating an old aged bronze verdigris weathered colour style finish look.

Also she has been clear varnished for added weatherproofing.

Having minor imperfections

consummate

with

being

cast moulded made.

International shipping worldwide is available please ask for a quote thank you.

Viewings are welcome by appointment only for customer support please send a message thankyou.

Cash upon collection is welcome.
Dimensions in Inches & Centimetres Approx