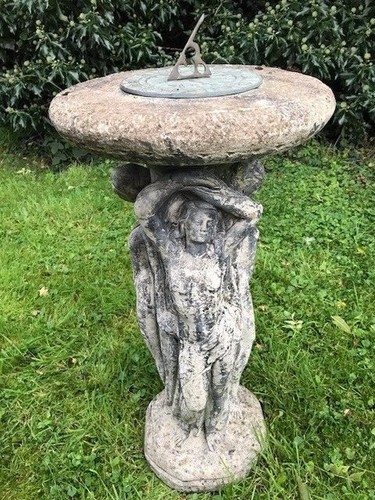 1 Fine 20th Century Stone 3 Graces & Zeus Garden Celestial Zodiac Sundial.

With a beautiful cast bronze sundial plaque centre on the top showing 12 signs of the Zodiac with Roman numerals.

Having a round top & octagonal base.

With the 3 Graces & Zeus around the sides.

The zodiac is an imaginary band, centred on the ecliptic, across the celestial sphere and about 16° wide, in which the Sun, Moon and the planets Mercury, Venus, Jupiter and Saturn are always located.

The band is divided into 12 intervals of 30°, each named (the Signs of the Zodiac) after the constellation of stars which it contains.

The sun's ecliptic longitude may be measured against this scale.

It came from out of rather splendid large country stately home garden in Shropshire. Offered in fine used condition.

Rather heavy 70kg approx.

It has rather fine natural weathered aged patina.

The top does lift off for ease of shipping.

Circa late 20th century, 40 years old approx.

Made of the finest composite cast stone.

International worldwide shipping is available please ask for quote & we can ship by pallet at reasonable cost.

Viewings are welcome by appointment only for customer support please send us a message thankyou.

Cash on collection is welcome.
Dimensions in Inches & Centimetres Approx
15.5" Length of top (39cm)
10.5" With of bottom base (27cm)